Shops are now fully stocked with mince pies and mulled wine, which means we're officially on the countdown to the holidays. This festive period we're asking our offices to reflect on the past twelve months, as well as looking ahead to 2023.
Next up it's our Birmingham team, made up of Melissa Osborne, Sally Peet, Muminul Islam, Jordan Clarke, William FitzPatrick, Pritesh Patel, Tom Holloway, Giorgio Guglia, Michelle Collins and headed up by Darron Owen.
"What a year for Birmingham! It was fantastic to host the Commonwealth games in our city, the buzz and increase in tourism it created was a great thing to be part of. As an office, we also got to host our annual company Trident day, It was a pleasure to welcome all of Team Trident to our city, and show them around for the day – we even directed and starred in our own video, which showed off Birmingham to the rest of Trident, the bloopers reel is actually longer than the main video!" – Darron Owen
Promotions:
Melissa Osborne – Head of Conservation, Associate Director
William Fitzpatrick – Principal Building Surveyor
Pritesh Patel – Senior Building Surveyor
Eps Islam – Senior Building Surveyor
Key Projects:
We asked the team what their favourite projects of the year were, but they really struggled to narrow it down as surveyors love surveying. Below are the highlights….
Leicester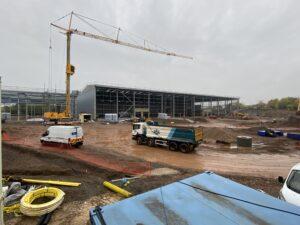 Darron is working on this project for Day Lewis Pharmacy. We are providing project monitoring services on two new build industrial units totalling 120,000ft2 and project management services on the internal warehouse to suit client requirements.
Kitsmead
The team is working on this project at Kitsmead where we are providing project management services for Newcore Capital LLP.  This includes site redevelopment, with new build offices, complete refurbishment and extension of two industrial units using the existing frame and extensive external works to provide a refurbished estate access road and large concrete yard for vehicles, including new site drainage, lighting and security – This is the largest project to date the team have project managed for Newcore.
Pride Hill
We have also just finished this project in Shrewsbury which included an external refurbishment of the listed building on the main shopping street, for Custodian Capital, including scaffolding to all elevations.
Dormer Window Repair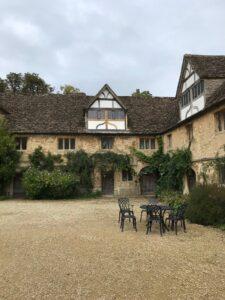 Head of Conservation, Melissa, produced a schedule of work and provided contract administration services for specialist repairs to a dormer window on a heritage property. You may recognise this courtyard, which was used as a set for the Pride and Prejudice movie.
Events:
Our Birmingham team are always one of the first teams to get involved into any suggestions the marketing team put forward. This year they took part in Sleepout, Steptober, and Commonwealth cup where they came joint first. Its brilliant to see so many of the team taking part and supporting LandAid in all their activities.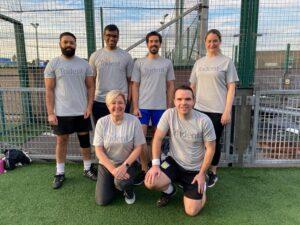 If you want to get in touch with our Birmingham office about a project, you can find out more here.