Commercial real estate tenants today are shopping for more than space; they're shopping for an experience. Therefore, they are demanding more from landlords in terms of amenities, technology, and lease terms.
Community/Amenities
Amenities like lounges, kitchens, gyms, and showering facilities in the office increases job retention and satisfaction – only tenants can know if the corporate culture can handle it.
Communal areas are a good start, allowing employees to take dedicated breaks to eat and relax with colleagues. Companies have started experimenting with this idea by introducing green and quiet spaces, subsidised canteens and lunchtime activities.
As working styles change, open and connected environments with Wi-Fi and communal areas are becoming the norm. Being in a buzzing location is a high priority for 90% of millennials and 82% of Gen-Xers (from the 1000 people that British Land surveyed). Break-out spaces using modular furniture solutions allow for collaborative working or a change of workspace for individuals. Re-design often enhances these areas using bold colour and mixing materials, while utilising floor area efficiently.
Technology
Through apps, a property comes to life as a living organism.
The rise of digital disruption and expectations from clients has turned landlords from rent collectors into service providers.
Tenants want their companies to grow and they don't want spaces to inhibit that growth but facilities that can be adapt to their requirements. This could be something as simple as movable walls to space for changes in technology.
Even if furniture is included, landlords should provide space-planning services to show how their offices can be configured to meet tenants' needs for flexibility. Computer-aided drawings make it easy to generate space plans that illustrate how the new space will look and feel.

Landlords and Tenants Balance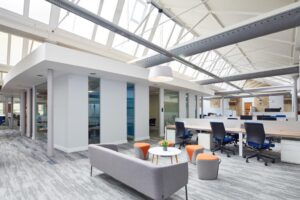 Landlords' budgets are key in this, but it is also clear that spending on amenities will bring rewards. A workforce will thrive if it listens to its employees, but will the workforce thrive in a building that doesn't reflect their culture? Communication between landlords and tenants is key to a successful building operation, with tenant feedback improving services and landlords benefitting from these changes that will create a higher rental price.
If you would like to discuss a project with Stacey, please get in touch on 07518 906 878 or at stacey.sneddon@tridentbc.com