The built environment, of which the construction sector is a crucial component, currently contributes around 40% of the UK's total carbon emissions and an estimated 11% of global carbon emissions.  As such, the property sector (including the construction industry) has a crucial role to play in terms of achieving the Government's commitment to net zero carbon by 2050.  Many of Trident's clients have already set or are setting their own personal targets in order to improve the energy performance of their buildings and reduce carbon emissions.
The most well publicised sustainable UK buildings will usually comprise large new build developments or large refurbishments that incorporate significant elements of sustainable design.  In reality, these prestigious case study examples probably form a very small percentage of the UK's overall building stock.  It is the refurbishment, retro fit and conversion of the existing "typical" building stock that is likely to influence the bigger picture in terms of achieving the net zero target by 2050. These smaller improvement projects are happening every day and need to be recognised. Conversely, there is no doubt that the larger "flagship" case study projects will help to influence future design of both new build and refurbishment schemes moving forward.
There is a nationwide 28 year programme to improve the performance of the existing UK building stock (as well as ensuring sustainable new developments).  For some clients this may understandably seem quite daunting, for both budgetary and practical reasons.  Conversely, for many of Trident's clients this (ESG) is simply a new and very important element of the lifecycle process for their buildings.  Trident have been involved in many small to medium sized refurbishment projects whereby the budget may have been limited but we have still been able to ensure that energy performance improvements are incorporated into refurbishments.
Lighting
Lighting in commercial buildings accounts for approximately 23% of operational carbon emissions.  In our experience, moving to energy efficient lighting specifications is often the easiest way to achieve a significant reduction in energy use and carbon emissions. IT often results in the biggest increase on the EPC rating as well. Examples may include:
Replacement of old light fittings using low energy LED light fittings.
Incorporation of daylight dimming controls so that artificial lighting use is reduced in buildings where good natural lighting is already available.
Installation of new lighting controls including PIR motion sensors so that lighting is only switched on in occupied spaces that are in use.
Heating, Ventilation and Air Conditioning (HVAC)
Many older commercial buildings still include both fossil fuelled wet heating systems as well as newer air conditioning systems that have been subsequently installed at a later date to provide cooling.  The majority of our clients are seeking to eradicate this inefficient scenario whilst also phasing out any systems that are gas or oil fired. Moving to electric systems increases scope to utilise renewable energy sources either now or in the future. Most air conditioning systems have a limited lifespan of between 10-20 years depending upon the quality of the maintenance regime during that period.  The life expiry or replacement cycle represents a good opportunity to install a more sustainable system.  Such examples may include:
The use of ground and air source heat pumps are becoming more common place and viable options.
The use of hybrid VRF air conditioning systems which utilise a much lower amount of ozone depleting refrigerant gas.
The incorporation of heat recovery systems to reduce energy consumption.
The use of new air conditioning systems that utilise a refrigerant type with a much lower global warming potential (GWP).
Trident are proud to have recently completed the installation of one of the UK's largest hybrid VRF air conditioning systems to a 90,000 sq ft Grade A office building within the centre of Bristol.  This was a sustainable and economical solution to address an old, less efficient four pipe fan coil system that was suffering widespread and sporadic leaks due to corrosion of the above ceiling pipework. The majority of the old system was sent for recycling including reclamation of the refrigerant from the old chillers prior to removal.
Thermal Envelope
Improvement of insulation to existing buildings can often present the most challenges in terms of both practicality and cost.  However, certain elements such as flat roofs, usually present more straight forward opportunities to introduce improved levels of insulation to the thermal envelope.
If buildings are due to have extensive and expensive scaffolds erected, then this presents a good opportunity to review the facades and whether more economy of scale can be gained (from the scaffold) to improve the thermal envelope and potentially reduce maintenance cycles (e.g. – replacement of single glazed and/or timber windows).
Renewable Energy Sources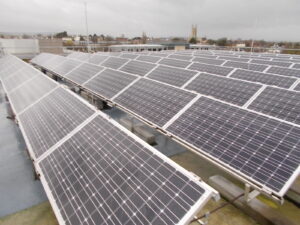 The introduction of on site renewable energy sources such as photovoltaics, connection to district heat networks and the use of heat pumps are all now viable options to be considered at the refurbishment cycle.  It is worth remembering that the average payback period for photovoltaic (solar panels) systems has reduced from nearly 100 years down to 5-10 years within the space of two decades. All of this technology should continue to advance and become more readily available.
Many new passenger lifts will now incorporate energy recovery and battery storage so that many of the lift movements can be powered by "free energy" that is generated on site.
Green Travel
We are pleased that the majority of refurbishment projects we are involved in now incorporate an element of green travel improvement works.  This will usually comprise the installation of facilities and general improvement works to promote green travel to buildings such as cycling, walking, electric vehicle use etc.  The majority of our commercial refurbishments (predominately offices and industrial buildings) incorporate the installation of electrical vehicle charging points, improved shower facilities and high quality secure cycle storage.
Waste and Recycling
All commercial buildings should now incorporate good quality waste and recycling facilities to enable the occupiers to maximise their recycling.  In addition, contractors undertaking refurbishments should also implement a site waste management plan that recycles as much of the removed waste materials as possible.
There is a now a much better understanding of the impact of "embodied energy".  Buildings' main structures (particularly steel and concrete) incorporate massive quantities of embodied carbon.  The refurbishment, conversion and reusing of existing building structures is sustainable in its very nature.  Clients are encouraged to question whether certain elements really need to be thrown away or replaced.  For example, an old raised access floor system may be perfectly functional, level and repairable but it may also look unsightly for marketing purposes.  Can it perhaps be retained, repaired as opposed to being potentially thrown into landfill? It may be possible to favour the specification of materials that include a recycled content or even extract or absorb carbon from the atmosphere (Carbon sequestration). Locally sourced UK materials will typically have a lower embodied carbon quantity as they have not been transported thousands of miles by land, sea or air.
The above is just a very limited snapshot of some examples that Trident are incorporating into our refurbishment projects.  We see this as a continuing series of smaller steps that can be taken at each refurbishment cycle that should combine to get our buildings moving on the pathway towards net zero carbon by 2050 – an exciting challenge that we can all positively contribute to.
If you wish to discuss a project with Dan,  you can do so by calling 07717 128 925 or by emailing daniel.brooks-dowsett@tridentbc.com