Roofing is a hot topic at the moment due to the global climate crisis that has been hitting the headlines in recent years. Our extreme weather along with our need to provide alternatives to fossil fuels mean that roofing could be both a problem we need to fix and a solution we need to develop.
To match our increasingly longer, hotter and drier summers, we are due to experience an increase in much longer, wetter winters. This is going to create huge risks of water ingress to industrial properties; a deluge of unexpected water into gutters that are potentially blocked or insufficient in capacity could result in 'ponding' or even roof collapse, if this issue isn't dealt with quickly.
In some cases 'blue roofing systems' are being implemented to combat flooding. These are designed to retain water and prevent flash flooding, which is more likely to happen with a traditional roof design, due to down pipes and guttering not being designed to cope with heavy rainfall. Blue roofing systems are designed on watertight flat roofs using a porous top layer, to allow water to filter through slowly to the inbuilt drainage and filtration system. This allows the speed the water is distributed down drain pipes to be regulated and is key in reducing the risk of flash flooding. Blue roofing systems boast many other positives including reducing energy costs due to the ability to improve thermal insulation
As well as rain, snow-related damage is also due to become a common issue. Properties, especially industrial roofs, are not designed to carry such heavy weights and so roof failure will become more common if we do not ready ourselves with solutions to bolster the roofing and to remove these loads.
One solution that is being offered is louvered panels that are designed into the parapets of a roof, to accommodate snow fall, which will fall through the louvres once it reaches a certain depth. This solution clearly has a cost implication, but as this issue increases, it may be a cost-effective one.
In addition to the above it has been calculated that there is 14% more sunshine on average compared with fifty years ago. With such climate change the use of Photovoltaic Panels has significantly increased, to produce sustainable energy, reducing the impact of climate change. PV panels can be used on the roofs of multiple types of buildings from residential to industrial but for industrial use, roof design needs to consider the fact that each PV panel can weigh up to 15Kg and with lateral wind forces and uplift, buildings frame capacities have to be assessed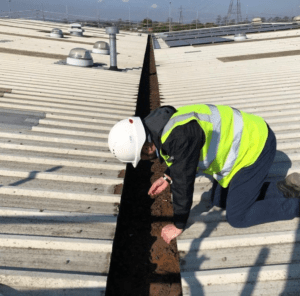 Much like the drainage systems, it is crucial to keep the PV panels and the surrounding areas clean and free of moss and lichen, which could have a detrimental effect on the roof covering, though some panels and roof coverings are being designed to be 'self-cleansing'.
It is likely that current and future roofing design will continue to evolve to take advantage of the consequences of Climate change, whilst providing more sustainable solutions.
If you would like to discuss a project with Sally, please get in touch on 07563 022 412 or at sally.peet@tridentbc.com