This time last week, seventeen members of Team Trident were preparing their thermals and sleeping bags for a cold night, sleeping outside, for the LandAid SleepOut 2022.
We're really proud to support LandAid, a charity who brings the property industry together to support charities who deliver life changing services for young people, who are, have been, or who are at risk of homelessness.
One week on from the SleepOut, we asked some of Team Trident who took part to reflect on the experience.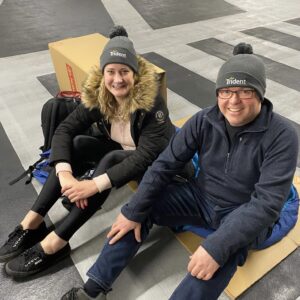 "The sleepout gave you an insight in to how homelessness must feel like, accepting that we were in a supervised car park area!  Adding in to this that young people are sometimes homeless without any support or network, it must be a very scary and intimidating place and scenario that they are in" – Darron Owen, Birmingham.
The event replicated the conditions of sleeping rough, but we were grateful to have LandAid volunteers, security and medical staff if anything went wrong.  
"It was a long night, but I could never imagine sleeping outdoors without security, medical staff and the peace of mind that at any point you could move inside" – Oliver Davison, Bristol. 
"While I laid awake, I reflected on what it would be like to do this every night, but with the added worry of danger at any point, you'd never really sleep, always having to have one eye open. I didn't have to worry about my backpack going missing or being attacked. The thought of that is truly terrifying and we all need to come together to help those facing homelessness" –  Hannah Tottie, Leeds. 
We we're also given talks by LandAid and local charities in order to hear first-hand how the money raised would have an impact in our local area.
"We met the CEO of St Basils for whom funding is being raised by Land Aid and the support they are providing to stop young persons from becoming homeless and the cycle this can get people in to with little escape was inspirational!" – Darron Owen, Birmingham.
"The event was a big eye opener last night, into what people have to go through every night, it was great to be apart of the event, raising money and awareness for LandAid" – Callum Rutherford, London.
On Friday it was back to business as usual for us, and heading to work the following day may have been the toughest bit!
"I had to walk through the streets of Leeds and get on the train. I suddenly felt very aware of myself in comparison to others. Everyone was dressed for business and looked put together, and I looked a bit worse for wear holding my sleeping bag. Did other people notice me and judge? I made sure to sit at the back of the carriage and hide away. It wasn't a pleasant feeling.
I really struggled on Friday more than I thought I would. It wasn't necessarily the lack of sleep, as we have all had poor night's sleep, but the sleeping without comfort. I was stiff and sore all day, and because I never really 'switched off' meant I lacked any form of concentration. I found myself having to re-read emails a few times to understand them, and I struggled to write coherent replies. One of my first jobs was to write our social media posts for the day, a task I do daily, a job I never have to think twice about, but It surprised me how long it took. I had to get them double checked to make sure they were correct, as I didn't trust myself. This was after one night sleeping out, imagine this being your norm, you'd struggle to work to your maximum output" – Hannah Tottie, Leeds. 
Last year, 121,000 16-24 year olds were homeless or at risk of being homeless in the UK, the money raised from the SleepOut will have a real impact in allowing LandAid to provide vital help.
Thank you to everyone who gave up their evening in support of LandAid, and there is still time to donate and you can do so here: https://join.landaid.org/fundraisers/TridentSleepOut2022– Any donation will make a real difference.