A professional office space to any business is vital, but finding and fitting out the right space can take time and raise a lot of questions. Where will the office be? How big will the office need to be? If I find an office for my twenty staff now, will it be big enough if my business grows throughout my lease, which will likely be five to ten years? Plug and Play offices simplify the process by offering a low cost and flexible solution that is becoming increasingly popular.
What is a plug and play office?
A plug and play office is an office space which comes fully furnished, with office furniture and equipment such as printers, high quality internet, phones, meeting rooms, conference equipment, tea-coffee facilities, air conditioning and often with its own security, concierge and IT services – You literally plug in your computer and get to work.
What are the benefits?
Flexibility:
With plug and play office spaces, there are no long-term contracts, meaning you are not tied to an office space if the direction or size of your business changes.
Networking
In traditional office spaces, more than one company may be in the office building, but only one company will be in each office space. With plug and play, more than one company may share the same office space if there is room. This means that you will have a natural opportunity to network while you wait for the kettle to boil, without needing to go to dedicated events.
There will be increased opportunity to build business relationships, for example you may need a website designer to build your new business a website, but a free-lance web designer may be sat in your office. – As they say, its not what you know, but who you know!
Costs
Not only do you save money on fitting out and furnishing an office space, but also on bills such as electricity and water, as these are usually included in the lease price with plug and play offices. As well as this, there is also no strip out needed at the end of the lease, and therefore no need to pay for dilapidations which run expensive.
However, with plug and play, you can be restricted on refurbishments to the office, meaning you may not be able to find a space completely to your liking or that fits the need of the business.
Office spaces for all
A professional office space can be a catalyst to move a new business forward, but when starting out, these smaller businesses will not be able to afford a typical office lease, or be able to commit to long term leases that traditional office spaces ask for. Plug and play is the perfect solution for growing businesses.
Sustainability:
Plug and Play offices can be a sustainable alternative if the landlord considers the following things:
Souring or specify the use of sustainable furniture – either recycled, refurbished or locally manufactured.
Include Biophilia – real indoor plants, living walls.
Include good quality recycling stations inside the office to promote recycling.
Tenant's Lease to stipulate how furniture is dealt with at lease expiry – there is a risk that it is beyond repair and could be thrown away. If the Landlord is able to control this then it could be donated to charity for the "circular economy" or refurbished to be used again.
Include "green lease" terms – if the tenant has to replace items at lease end then ensure that the tenant specifies (or the landlord is able to insist upon) replacement materials with genuine sustainability credentials.
Plug and play offices might assist the landlord in terms of maintaining a WELL certification for the building by giving the landlord greater control / influence over how the tenant's fit out their spaces.
Landlords
Plug and Play offices don't just benefit the tenant, but also provide advantages for Landlords.
Landlords can benefit more financially from plug and play as opposed to typical office spaces, due to typically higher rental yields and reduced void periods. Similar to this, Landlords can reduce expenditure as they can let out floorspace without the need to make contributions to the tenant fit out and without incentives such as rent-free periods. However, at first Landlords can expect a higher upfront investment with plug and play offices due to having to fit out, furnish and install things such as Wi-Fi in to the office.
What are the trends?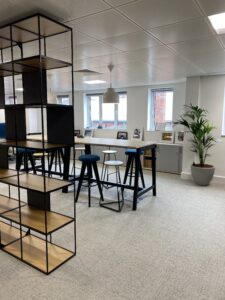 Plug and Play offices are now becoming a mainstream offer within the office space market. The popularity of these offices has been driven by an expansion in the flexible office market and being established as an alternative to traditional leasing that gives the tenant more flexibility with lower costs.
More and more landlords are buying into the market and providing plug and play office spaces with the growing demand from tenants who want the ease, flexibility and low costs that plug and play provide while the landlords benefit from no void period.
A definite factor in the popularity of plug and play with tenants is the COVID-19 pandemic, which ultimately changed the way we work and look at an office space. For example, since the pandemic hybrid and agile working in on the rise, but is it here to stay?  An office space with a desk for all employees is unnecessary when only 50% of your workforce may be in the office at once, but this may change and therefore plug and play is a great solution, as tenants aren't committing to a bigger or smaller office space.
If you would like to discuss a project with Pritesh or Daniel, please get in touch at pritesh.patel@tridentbc.com or daniel.brooksdowsett@tridentbc.com