With a number of graduates and apprentices based across our offices, all in various stages of their APC preparation, it's important for us to have a programme in place to support them on their journey to become a chartered building surveyor.
We provide everyone with a variety of resources including, their own APC supervisor and counsellor, regular Q and A sessions, mock presentations, adaptable training methods as we recognise everyone learns differently and an annual APC training day in London delivered by experts.
We recognise the APC is a tough process, so it's essential our graduates have a support network in place. We encourage our surveyors to build their connections through speaking and working with our qualified and experienced surveyors, who are always willing to support them and through events, both internally and externally. That's why we held a networking evening before our recent APC training day, where everyone had the opportunity to  get to know each other away from the office and build up connections.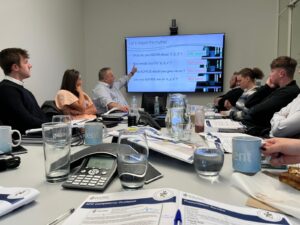 Following on from our recent APC day, this is what some of our graduates had to say….
Robert Williamson – London: "I'm one of the newer graduates to join Trident and the recent APC day in London was a great way to meet others and speak to those who are further along in the process than I am and to learn what to expect.
I already know two other graduates from university who are based in our Leeds office, but the meal Trident organised for us was the perfect opportunity to get to know others from around the business in a more relaxed setting.
It's great to speak to others about their experiences on projects and learn from each other. I know if I need anything I could pick up the phone and speak to them."
Elliot Watson – Leeds: "As an apprentice I am in the early stages of my career and a few years off sitting my APC, so to be invited down to London for the APC day was very beneficial. Learning about the process from a young age will only benefit me further in the future.
I am also involved in the office mock Q&A's which help me delve deeper into topics, some of which I haven't even studied at university yet. All this support and guidance helps me in my university studies, and I feel at an advantage to other apprentices, some of whom aren't pushed to sit the APC"
Since our APC day, a few of our graduates have sat their APC, and are now Chartered Building Surveyors, giving us a 2023 pass rate of 100% so far.
Stacey Sneddon – Edinburgh: "The APC Training days have been incredibly useful through my time at Trident, with the last being the most invaluable to me as I could have one-on-one time with an industry expert. No doubt that all the support and resources Trident have given to me is why I can proudly say I am now a RICS Chartered Building Surveyor".
To find out more about our APC training programme, work experience or what it's like to be a member of Team Trident, check out our work with us page