You may have seen that Usmaan Mehboob from our Leeds team recently got promoted to a Principal Building Surveyor, after joining us as an Assistant back in 2017.
In that time, Usmaan has made his mark here at Trident, working in a way that reflects our values, which we are sharing with you all as we celebrate #TridentProudly25. We sat down with Usmaan to reflect on his journey with us:
Q: You joined us back in 2017 as an Assistant Building Surveyor and have been promoted twice. In that time, what changes at Trident have you noticed?
UM:  "Over the last 6 years, Trident has made every effort to incorporate suggestions and implement changes that support and benefit us. From my experience the board genuinely value the feedback they receive from the annual staff engagement survey and staff voice committee, using this to inform changes.
When I joined Trident, we didn't have as many of the perks we have now such as agile and hybrid working. This has many advantages, such as the flexibility it provides. I can select the days when I prefer to work from home, allowing me to efficiently manage my schedule. This enables me to allocate my work to where and when I'm most productive; I like to use home days to complete tasks requiring greater levels of concentration. Another benefit of working from home, is that I can go to gym during my lunch break as opposed to waking up at 6:30am.
 Recently, the company has also introduced Perkbox which is an excellent staff reward scheme, which came from a staff suggestion. As part of this scheme, we receive monthly points which can be exchanged for vouchers to spend at a variety of shops or can be used to redeem a complimentary coffee or tea from Café Nero.
I began my journey at Trident as an Assistant Surveyor in 2017, and through dedicated effort and a strong passion for my work, I've advanced to my current position as a Principal Surveyor. When you commit to putting in the effort and have a genuine passion for what you do, there are no limits to how far you can advance in your career. Personally, I've experienced excellent career progression at Trident, and I eagerly anticipate further upward mobility as my experience and professional skill set continue to expand."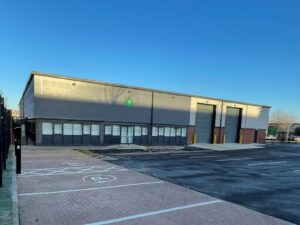 Q: How has your experience improved?
UM: "I joined Trident with limited residential and no commercial surveying experience. I can now comfortably deliver any of the commercial services we offer. As my career has progressed, I have taken on higher value projects and act as the lead surveyor on new instructions with support from assistant surveyors in our office. I am currently project managing a multi-million pound office refurbishment scheme in Sheffield as well as continuing to provide contract administration services on other schemes."
Q: What has Trident done to help you progress your career?
UM: "Trident has continually invested in my training, helping me to stay on top of my CPD requirements and further develop my skills where required. I currently hold the status of an associate member within the Association of Project Safety, and I'm actively working towards achieving Incorporated membership. My role is client facing therefore I am in daily communication with various people. Through this engagement, I have developed strong working relationships with new and existing clients throughout different sectors, and this is often rewarded with repeat instructions."
Q: What is the best project you've worked on and why?
UM:" I've had the pleasure of participating in various projects, and each one has been a fulfilling and enjoyable experience to be a part of. However, the most rewarding project for me was the refurbishment of Unit 1 & 2, Metro Park, Leeds. The client put their 100% trust in my ability and allowed me to specify the works, tender the project and manage the work onsite through to completion. The refurbishment works were completed to a very good standard with new lettings agreed on both units prior to works completion".
Q: We know you love your job and the projects you work on, what do you enjoy most and why?
UM: "I find surveying to be a truly fulfilling profession because each day brings unique experiences. On a typical Monday morning, I might start my day tending to emails or drafting a report. However, by the afternoon I could be out on a construction site, chairing a progress meeting or overseeing the final stages of a project. This dynamic blend of office and surveying keeps my works days exciting and varied."
If you would like to speak to Usmaan about his career or for advice on a project please get in touch at usmaan.mehboob@tridentbc.com