This year's International Women's Day is all about #embracingequity which aims to get people talking about why equal opportunities aren't enough.
While equal refers to giving people the same, equity refers to giving people what they need to all reach the same outcome. This is so important as it recognises that we have different identities and experiences, and don't all start from the same place.
To celebrate this year's International Women's Day and #EmbraceEquity, we sat down with six women of Team Trident from across the business to understand not just what they do here at Trident, but how they got there and what the challenges of being a women in our industry are.
ALEXANDRA PRICE– MARKETING AND BUSINESS DEVELOPMENT DIRECTOR
What is your role at Trident? – Are they any key projects/accomplishments that stand out?
I am the Marketing and Business Development Director at Trident. I joined Team Trident six years ago as the Marketing Manager and this time last year got promoted to Director. I enjoy my role as I get a lot of freedom, which allows the team to be creative and try new things, but at the same time, I have two great managers to feed into when required.
My highlights over the years are the rebranding of Trident, almost starting from square one with our marketing approach – It was a very busy time, but a great learning process. Also having a social media presence that reflects Trident and our values, completing my CIM Diploma, as well as more recently working with BAME in property on our EDI approach and working on setting our Science Based Target, showing our commitment to taking meaningful action to reduce our emissions. Trident has given me the opportunity and support to not only the lead the marketing outputs but also get involved in a wide range of aspects across the business, giving me more experience to further my career.
What's the biggest challenge for you, as a women in the industry?
I have worked in various industries over the years, all predominantly male orientated or the leadership has all been male so coming into this sector wasn't a massive change for me. It is daunting sometimes, especially being the only woman at certain events. I remember once presenting to a room of all senior men, who were a lot older than me, it was really intimidating but I always just focus on what I'm doing and try to have confidence that I know my area and therefore have got it. When I hear negative comments about women, I do feel it's my responsibility to call out this behaviour and challenge policies and processes to ensure women are included and represented. However, I do try to be positive, change is happening but for me what is important is that companies need to understand this is a cultural change and not just a tick box exercise.
What can the property industry do to attract more women?
Before joining Trident, I didn't really know what building surveying was and I get the vibe that a lot of people don't know, and this is why 'what is a building surveyor' is a key search term on google. I know a lot of work is done with universities, but I think it's getting into schools, before kids pick their GCSEs, let them know about this industry. When I speak to surveyors, they seem to really love their jobs – one even said he looks forward to Monday mornings! We need to do more as an industry to raise the profile of building surveying to attract a wider range of people, picking the right schools, offering work experience, it all helps. I never knew what I wanted to do, I fell into marketing but enjoyed it and got my qualifications, who knows if I'd been told about building surveyor I might have gone into this profession!
ASHLEE RUSHMER-WELLS – PROJECT MANAGER
What inspired you to pursue a career in project management?
I have always been the 'planner' or 'organiser' amongst my friends and family, so I just combined that with my interest in property and construction. I've always enjoyed the process of seeing a building go from drawings through construction and then seeing the final result, so it seemed like a sensible career to pursue.
What's the biggest challenge for you, as a women in the industry?
There have been times where men on site haven't respected my comments or thoughts because I'm a women. I feel the industry has drastically changed since I started but I think there can be sense that we don't take our careers as seriously as men due to outside factors. Women tend to do a lot of juggling, but that doesn't mean we drop the ball on our career when an extenuating circumstance comes up.
What can the property industry do to attract more women?
I think companies and professional bodies could represent women more when they are recruiting/marketing. Even having women representatives at career fairs could make a huge difference in showcasing property/construction as a woman inclusive career. Children can then be made aware of the industry, and it may change their future degree path to enable them to become surveyors etc.
KELSEY JOYCE – HR AND SYSTEMS ADMINISTRATOR
What is your role at Trident – Are there any key accomplishments that stand out?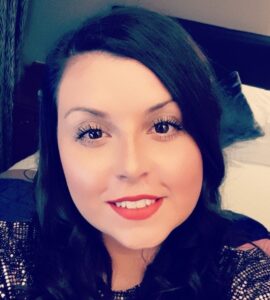 I'm Trident's HR and Systems Administrator. My biggest achievement so far is that I recently passed my CIPD Level 3 in People Practice qualification.
Tell us about your career so far, anything that stands out?
I joined Trident as a Secretary back in 2014. I have always had an interest in HR and in 2018 I was given the opportunity to join the HR team. – I haven't looked back since, and I'm so glad that I made the move.
What advice would you give to someone looking to get started in HR?
Working within HR is a very interesting yet rewarding job with everyday being different. I took a slightly different route into the job as I didn't have any HR qualifications beforehand, but I learned so much from simply doing the role and I achieved my qualifications in my spare time, which was a great way to learn as it helped me understand the course material so much better seeing in in practice.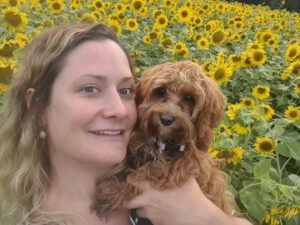 SALLY PEET – ASSOCIATE DIRECTOR
What's your role at Trident? – Are there any key projects/accomplishments that stand out?
At Trident, I'm an Associate Director in the Birmingham office, working on a wide variety of instructions including dilapidations, PPM's, building surveys and project work. I love having such a diverse workload where every day is different.
What's the biggest challenge for you, as a woman in the industry?
Women do still face challenges within the construction industry from unconscious bias and gender pay gaps, but thankfully the industry is continually moving towards gender balance.
What can the property industry do to attract more women?
Whilst the number of women in the industry is slowly increasing, it is still low in comparison to men. The industry needs to target schools and ensure teens and young adults are aware of all the opportunities within the property industry – I certainly had no idea what a building surveyor was when I was choosing a career, but I'm so glad I discovered it and I feel very lucky. Individuals and firms need to take more of an active role in increasing awareness of the opportunities and pathways available.
PAULINE DRAYTON – SENIOR SECRETARY
What inspired you to pursue a career as a secretary?
My sister had enrolled onto a part time course to learn how to touch type and she was given a manual typewriter. The company trained you to touch type by having all the keys covered with an assortment of coloured caps. You were then given training cards which showed you the letters and on how to position your hands on the keyboard. I was amazed with this and so I would practice and before long I was touch typing over 30 WPM. I then proceeded to complete an RSA and Pitman qualification in typewriting.
With my typing speed I was able to secure my first role as a mere 18-year-old through Capital Radio's job centre with a firm in Regent Street as an Office Junior/Person Friday. This role was extremely busy – no two days were ever the same – photocopying, filing, running errands, completing post, banking cheques, organising meetings, lunch runs etc.
Tell us about your career so far, anything that stands out?
I have worked in various organisations/industries e.g. local government, accountancy, financial services, wealth management and finally building surveying. This has given me a vast amount of experience as well as seeing my role evolve immensely with the advancement of modern technology. In my first job I used a manual typewriter with carbon copy paper, then an electronic daisy wheel/golf ball typewriter with correcting ribbon, manual photocopier, telex and fax machines and then the advanced Wang word processing system.  The secretarial role has become much more streamlined with the advancement of computer technology. I have definitely seen many changes in the 30+ years I have worked that I wonder what the next 30 years will hold although I hope to be retired and relaxing in Barbados on a beach with a rum and coke in my hand… Anyone who knows me knows that I love a tipple of some fine rum and maybe a splash of coke.
RACHEL CAMPBELL – ASSISTANT BUILDING SURVEYOR
What inspired you to pursue a career in Building Surveying?
I've always had a strong interest in architecture, property and construction, and when introduced to building surveying it seemed an incredible blend and wide varying profession which really intrigued me. I wasn't disappointed.
Tell us about your career so far, anything that stands out?
As well as experience in many interesting projects and surveys, which I've been lucky to assist with, I'm also preparing for my APC in late 2023 which involves studying various interesting topics.
I've also attended a number of social events to meet clients and other consultants in more relaxed settings, such as at our annual Oktoberfest event, and when we hosted tables at the 'Question of Sport' and 'Children's Aid' charity dinners.
What is your role at Trident? – Are there any key projects/accomplishments that stand out?
As an Assistant Building Surveyor I have involvement in various projects and surveys. I have recently completed the internal and external refurbishment of a large industrial unit in Perth, involving the amalgamation of 6 No. smaller industrial units to form one larger unit. The involvement from conception to completion was fantastic experience and included; initial design; statutory consent applications; procurement and tender; and all contract administration and CDM principal designer duties.
If you wish to speak to Alexandra, Ashlee, Kelsey, Sally, Pauline or Rachel about their careers and experience please do get in touch.