It's just over a week until the holidays begin, which means we are all preparing to spend time with our loved ones. This festive period we're asking our offices to reflect on the past twelve months, as well as looking ahead to 2023.
Our Leeds team is headed by Jamie Clark and consists of Cameron McMaster, Usmaan Mehboob, Christian Watkins, Declan Hard, Elliot Watson, Jake Harrison, Tom Hardy and Sue McCluskey. Leeds is also where our Marketing team; Alexandra Price and Hannah Tottie are based.
"There have been big changes to the office this year. I took over as office lead and we had two new graduates, Jake and Tom, join us over summer. It's a really exciting time for us and for me personally, Leeds is a fantastic office and I'm delighted to be leading such a fantastic team. Leeds as a city seems busier than ever when walking through it, and our neighbouring city Bradford won the City of Culture 2025 bid, which will provide lots of developments in the region." – Jamie Clark
New Starters
Tom Hardy – Assistant Building Surveyor
Jake Harrison – Assistant Building Surveyor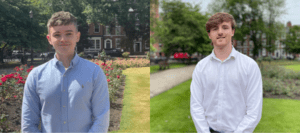 Promotions
Jamie Clark – Head of the Leeds office, Senior Associate Director
Alexandra Price – Director of Marketing and Business Development
Cameron McMaster – Senior Building Surveyor
Usmaan Mehboob – Senior Building Surveyor
New Qualifications
Mental Health First Aider – Sue McCluskey
Cameron McMaster and Declan Hard – Completed Vulcan Fire Course, with Cameron getting the feedback that his plan was one of the best his assessor has seen since training the FRA course – Well done Cam!
First Aider Course – Usmaan Mehboob
Fire Marshal training – Jamie Clark
Graduated from Sheffield Hallam with BSc (Hons) Building Surveying Degree – Jake Harrison and Tom Hardy
Completed year one of Building Surveying Apprenticeship – Elliot Watson
Key Projects:
With such a big team working on a wide range of projects, narrowing down a few projects to feature wasn't easy, but here's a taster of what Leeds have been up to this year.
Station Place, Newton Aycliffe
Jamie provided project monitoring services on behalf of the funder on this project in Newton Aycliffe, the oldest town in the North of England. We carried out initial appraisal and technical due diligence, attended all monthly project meetings and produced progress reports and certified monthly financial drawdowns.
Metro Park, Leeds
Usmaan has been working on this project at Metro Park for CBRE Investment Management which was recently completed. Usmaan provided project management and contract administration services on 20,000 and 5,000 sqft industrial units with works including external and internal refurbishments and major alterations to the external hardstanding's.
Castlegate & Church House, Elland
Jamie provided project management and contract administration services at the project in Elland for Together Housing Association. Works included removing combustible insulation and replacing with a non-combustible EWI system as well as included replacing all windows and recovering the roofs to improve thermal performance. The project finished earlier year after starting during COVID lockdowns and working through COVID restrictions, material and labour shortages.
Events
LandAid
The Leeds office always sign themselves up to LandAid's events, with everyone in the office taking part in Steptober, however one of the teams favourites this year was the Sleepout, which for the first time took place in Leeds. Jamie, Cameron, Christian and Hannah (with a little persuading from Marketing…) took part, which while the night was tough all agreed it was a rewarding experience.
Crypt Factor
Jamie, Dec, Christian, Jake and Alexandra, joined by Danny form our Liverpool team attended Crypt factor with clients which is a property-based singing competition that raises money for local charities.
Networking and team nights out
The team attended many networking events this year, including the Business Desk Summer BBQ and City of Culture event at Bradford. We also had team nights out to celebrate our promotions and welcome our new graduates, where Jake was crowned axe throwing champion!
National Apprentice Week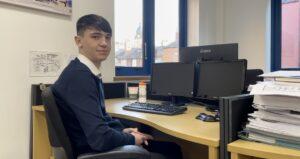 Being based with Marketing, does mean you get roped into things, which Elliot discovered during National Apprentice Week in February this year. Elliot filmed some short clips, which went out on social media explaining his experience with being an apprentice, how he came to join Team Trident and the benefits of choosing the apprentice route into surveying. We wonder what Marketing have planned for him for next year….
Marketing
Marketing have had a lot to celebrate this year, with Alexandra's promotion to Director of Marketing and Business Development , as well as Hannah completing her first year as part of team trident.
Some of the teams highlights include, organising our first in person Trident Day for the whole company since covid – It was great to have everyone together instead of behind a screen; and all the LandAid events that we get involved in as a company- It's been great to see so many people volunteer to take part. The team have also loved creating our content for social media, they get such a range from the surveyors which makes the job so much easier – Look out for next year, they have some big ideas for 2023!
It's been an exciting year for Leeds, with lots to look forward too as we head into 2023, if you want to get in touch you can do so here.